Lila is a determined 4-year-old with a big character yet light-hearted attitude to life. She enjoys art, music and dancing. Her favourite colour is pink!
Lila was born with two major heart conditions and underwent her first cardiac surgery at 19 hours old. Her mum Natalie recalls how they brought Lila to 186 medical appointments in her first 6 months. After a challenging 12 months Lila was diagnosed with CHARGE syndrome.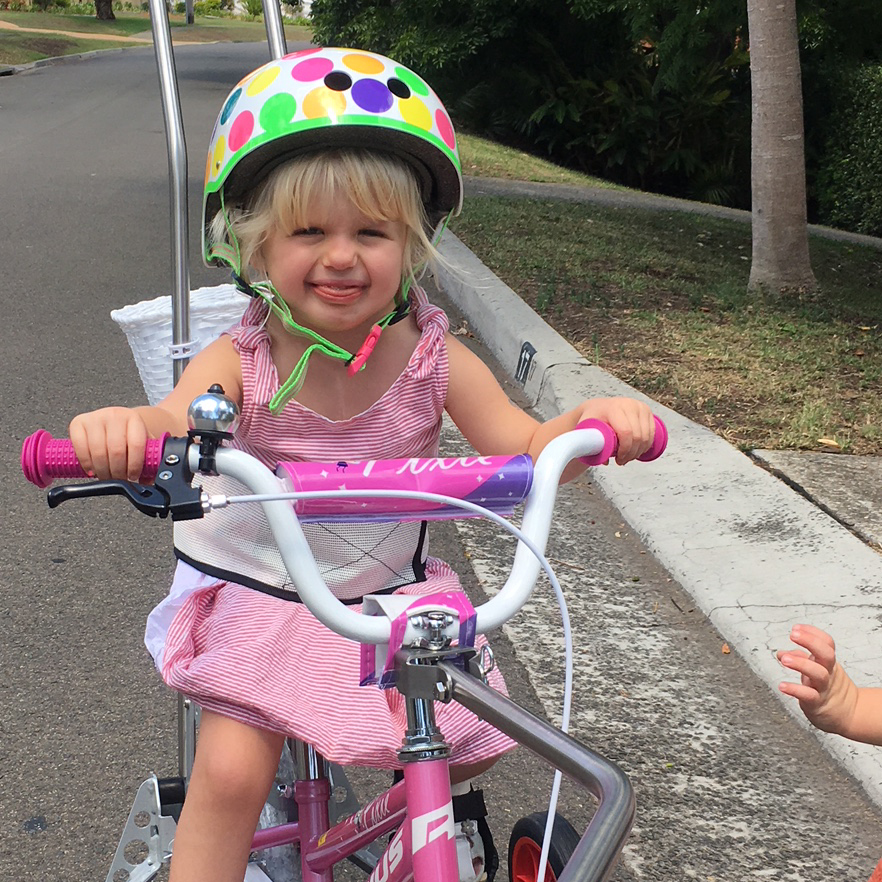 CHARGE Syndrome is a complex disorder which affects many areas of the body and differs between children. Lila has difficulty with balance in part due to abnormalities of her middle ear. Her hearing and peripheral vision are also affected. Because of this, physical activities are a bit of a challenge for Lila but she is always determined to have a go.
Lila's little brother, Oscar, is 2 years old and enjoys riding his trike and visiting the local park where they have play dates with their cousins. Lila had a go on Oscar's trike but couldn't ride like the other kids, it just didn't have enough support for her and she didn't feel safe. Lila watched the other kids play but didn't enjoy the park as much. Because she couldn't join in the active games, Lila sometimes preferred to sit and do her art.
During a visit to the Royal Institute for Deaf and Blind Children, Natalie noticed a flyer for Freedom Wheels on the notice board. She asked Lila's therapist about the service and they set up an appointment at the Freedom Wheels assessment centre in Northmead. Natalie says that the Freedom Wheels therapist was very knowledgeable, patient and able to accommodate Lila's needs. Lila was nervous to try sitting on the Freedom Wheels bike but she was also very excited by its pink colour, little basket and fairy stickers!
Natalie says, although Lila has only been riding her Freedom Wheels bike a little while, she is building confidence, learning to pedal and steer which are great for her balance and coordination skills. "Lila doesn't see her bike as being different, she sees it as, her special pink, fairy bike and she can ride it with confidence just like her brother and cousins do theirs."
Natalie says she cried tears of joy when she saw Lila riding for the first time, "I was super happy for her!" Now when they go to the park Oscar and Lila both ride their bikes with their cousins and have that important, inclusive, fun play time together.
For Natalie she can also catch up with family while feeling comfortable that Lila is safe. "Being able to expose your child to activities that are typical for their age is so important, it means a lot to be able to do this and know that they are going to be safe," Natalie says. She would definitely recommend that other families give the Freedom Wheels bike a try.