Natalie* is a happy, bright 30-year-old who enjoys puzzles and has a love for motorbikes and Coca Cola.
Natalie is living with a brain injury with cortical blindness. Her condition causes her to have frequent seizures, also affecting her ability to balance.
Mum, Patricia*, was looking for a solution for Natalie that would enable her to be more inclusive with family and friends, allowing her to get out and about more often. Patricia explored many options, however nothing seemed to click. Fortunately, her friend recommended TAD's Freedom Wheels bikes to her. Patricia was pleased to hear there were custom bikes available for people who need additional support.
Patricia then contacted Mary at TAD and organised an assessment with TAD's Occupational Therapist, where they got Natalie to trial the 27-inch bike with outriggers and foot cups. When describing Natalie's experience with TAD, Patricia said, "The whole thing was a smooth experience. Even with our supervision at the assessment, she was riding the 27-inch bike so well."
TAD's help has been extraordinary for Natalie. Patricia said, "Natalie hasn't ridden a bike for about 20 years, not since primary school." For Patricia, seeing Natalie ride her bike for the first time in a very long time was so exciting because Natalie was happy.
As Natalie's first bike ride was a success, Natalie can now take her new bike down to the local park with her family and carers to enjoy more exciting bike rides.
Patricia praised TAD's commitment to getting the right bike for Natalie. When asked what she would say to families looking for a custom bike, Patricia said, "Go for it. You won't know until you try and enquire."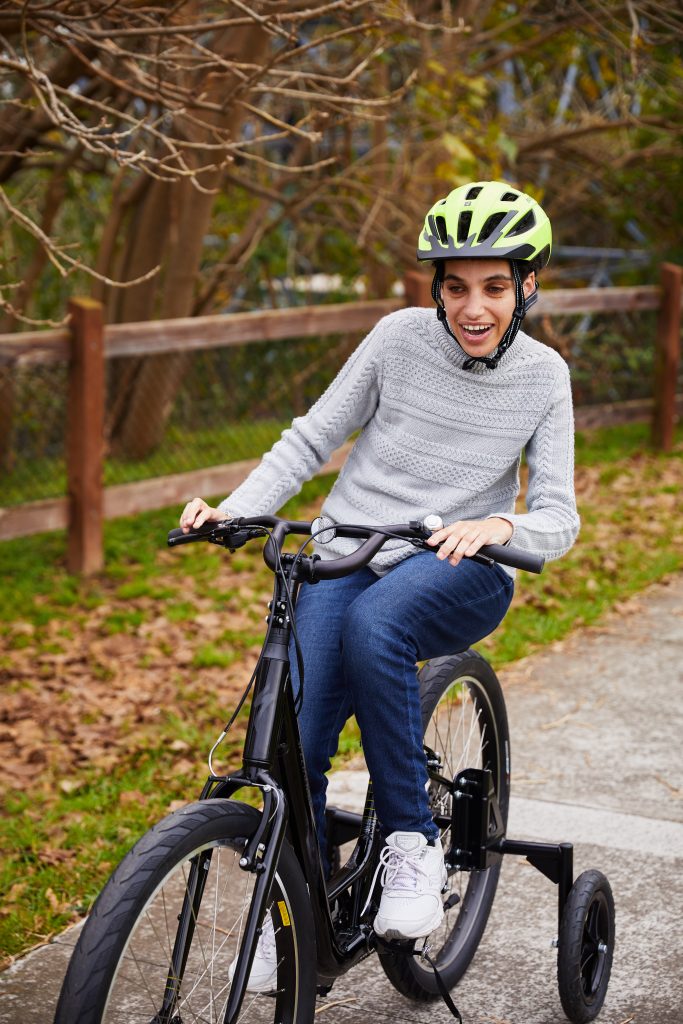 *Some names and identifying details have been changed to protect the privacy of individuals.